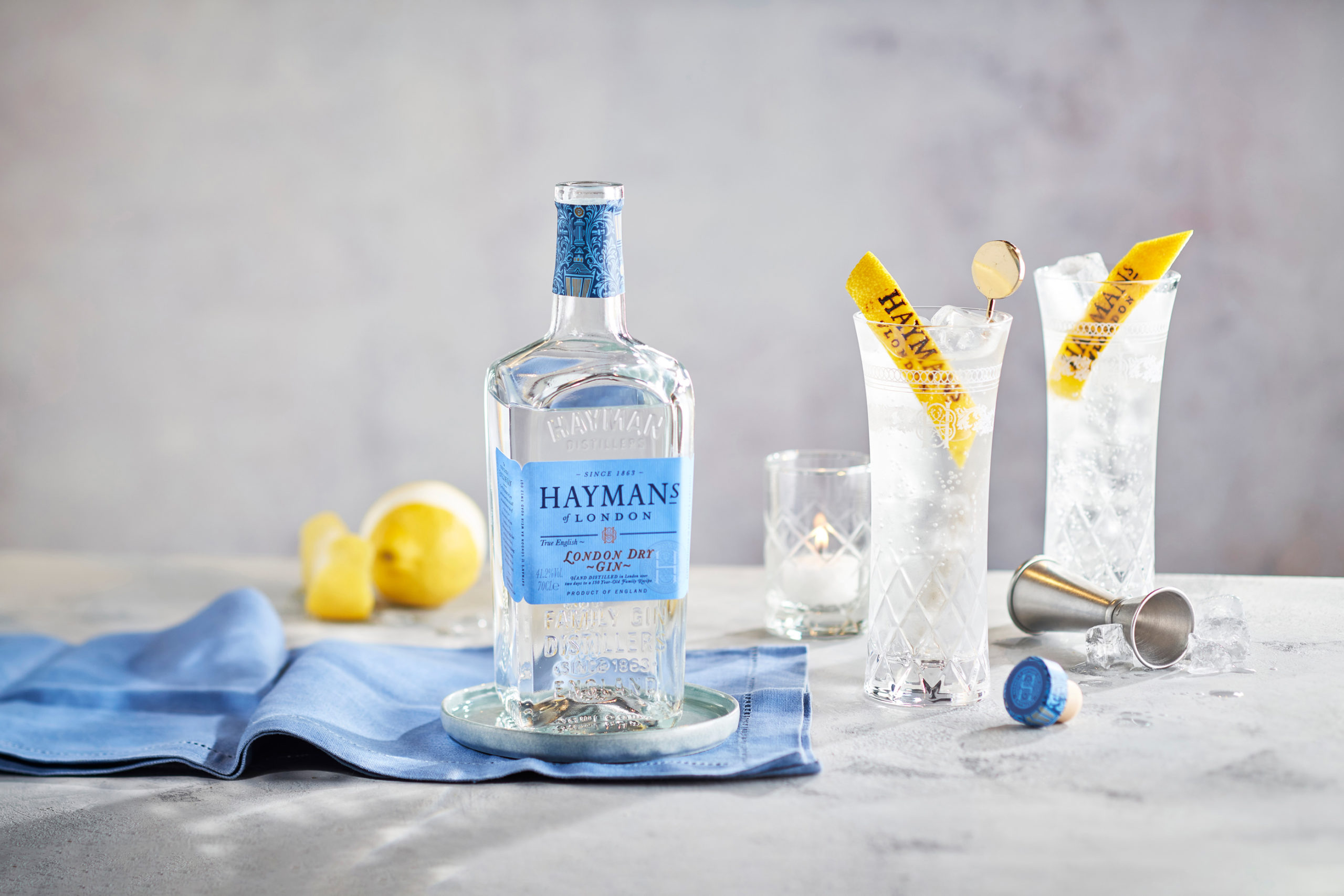 We have been mixing up G&Ts for over 150 years… so we like to think we've perfected the craft. It's International G&T Day next Monday… but at the moment we'll take any excuse to celebrate so we're stretching it out to be International G&T week. We've put together some tips and tricks to make the perfect G&T at home – with a special gift for you below.
Choose the perfect G&T Glass
We like to serve G&Ts in a tall, slim glass as the smaller surface area at the top keeps your G&T fizzier for longer. Our highball G&T glasses are eye-catching and elegant, drawing inspiration from a 19th century design found in our family archives and create a perfectly balanced G&T.
Fill to the brim with Ice
Do fill your glass to the brim with ice. The more ice in the glass, the slower the ice will melt meaning your G&T stays colder for longer. Plus less dilution ensures you can really taste the quality of the gin… which brings us on to…
Add your Hayman's
Now for our favourite bit, it's time to add your Hayman's. We recommend a double (50ml) to really taste the gin. You can use a Jigger to measure if you have one, if not we have found an egg cup works too. For a Classic G&T you can't beat our London Dry Gin. Designed so that no botanical overpowers the others, its balanced, crisp and bright.
Top with tonic
Pour in your tonic – but not too much. We always recommend approximately 100ml of a Premium Tonic (around half a small bottle)  so you can still taste the gin.
Stir 3 times
Use our G&T stirrer and stir your G&T 3 times to allow the flavours of the gin to mix with the tonic. Push the spoon right down to the bottom of the glass, then move up towards the top.
Don't have a G&T stirrer yet? We're offering a complimentary G&T Stirrer worth £8 with any 70cl bottle of Hayman's ordered on our website this week – Simply use code PERFECTG&T. 
Offer valid until midnight on Wednesday 21st October. One G&T stirrer per order.
Garnish how you choose
A G&T is personal, so have fun when garnishing and use what you fancy! Have some spare fresh herbs that you're cooking with this evening – they'll work perfectly. Love a slice of grapefruit? Go for it. At Hayman's, our favourite garnish is a simple lemon peel spritzed over the glass. It really brings out the delicate citrus notes already in our gin – fresh and simple.
Enjoy the moment!
There we have it… the Perfect G&T! We hope you will celebrate International G&T Day with us on Monday 19th October by enjoying a Hayman's G&T at home or with friends.