For the whole of the month June, Hayman's Exotic Citrus Gin is the Gin of The Month at Mr Fogg's Gin Parlour in Covent Garden.
The special, limited edition cocktails include The Exotic Expedition – a blend of Hayman's Exotic Citrus, Grand Marnier orange liqueur, Campari aperitif, citrus, cranberry juice and Angostura bitters; The Italian '63 – Hayman's Exotic Citrus gin, mandarin juice, orgeat syrup and citrus, topped up with Prosecco and of course The Exotic G&T.
In celebration of our collaboration, we caught up with manager Andrea Fasullo to talk Exotic Citrus, Mr Foggs, and all things Gin.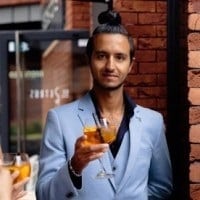 How did you get started in the industry?
I have worked in the industry since I was 18 years old. I started in Palermo in 2013 as a bartender, just as a side job to have some income whilst studying physics at University; clearly I discovered a world I wanted to be in.
What's your favourite thing about working at Mr Fogg's?
My favourite thing about Mr. Fogg's is the identity. I love being able to dress up in a Victorian way and being able to talk as a man that lived in the Victorian era. This is something that many other venues in London do not have: an identity.
What is your favourite gin in the Hayman's range and how do you like to drink it?
This is a very difficult question because I like all of them, but If I need to pick one on the spot it will be the Hayman's Royal Dock Navy Strength – a strong product that never disappoints with a good tonic water.
How would you describe Hayman's Exotic Citrus in three words?
Summery, refreshing, innovative.
What is your signature serve?
We serve the Hayman's Exotic Citrus in a cocktail created by the staff members of Mr. Fogg's Gin Parlour, where the cocktail compliments the citrus-ness of the gin with some fresh mandarin juice and the addition of Prosecco.
Who would be your dream person to have a cocktail with?
I would love to have a drink with Will Smith. Many of his movies have moved me.
What is an easy cocktail that anyone can make at home?
Negroni of course! Three equal parts of Gin, Sweet Vermouth and Campari. Actually I should try one with the Hayman's Exotic Citrus!
What current trends have you noticed in drinks?
The clientele is opting more and more for sweeter drinks, less strong, alcohol-free, and this is not necessarily a bad trend, we as an industry we just need to adapt to it to still deliver a good time!
How did you celebrate World Gin Day?
With a good and refreshing Hayman's Exotic Citrus and tonic!