At long last, we can welcome you back to the Distillery!
Enjoy a Distillery Drinks experience here at the Hayman's Gin Distillery in Balham on Friday and Saturdays.
Over a 2-hour period, you will be able to enjoy three specially prepared gin cocktails at your own table. Our hosts will give you a short introduction to our range of true English gins and will answer any questions you might have. Our cocktail menu varies each week, but you'll always be able to try our perfect Hayman's G&T. Additional cocktails including Martinis and Negronis are also available to purchase if you would like to stay for another drink.
Serving, seating and socially-distanced imparting of gin knowledge (rather than any tours) will be in accordance with Government Regulations.
Tables are available for 2, 4 or 6 people. We are taking afternoon bookings at 12 pm, 1 pm, 2 pm and evening bookings at 6 pm, 7 pm and 8 pm. Strictly only 18 years olds and over.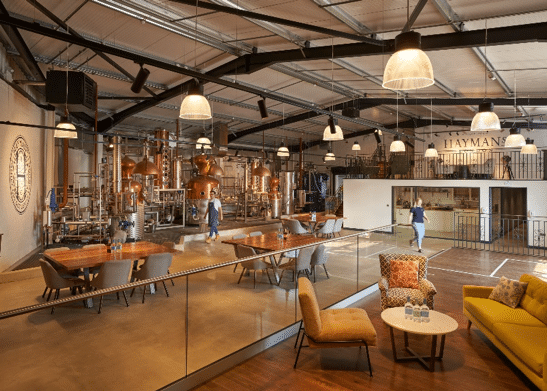 How To Book Your Table:
Book your table here.
Cost:
£25 per person (this includes £5 off your first purchase at the Distillery Shop).
Please note
If you had previously booked a tour which has had to be postponed due to Covid or have a tour voucher ready-to-use you can, of course, use your voucher as payment for this experience – or alternatively you could wait until our normal tours resume.
We look forward to welcoming you back to The Home of English Gin!